PV-watchdog

The PV watchdog is an extremely small and low-cost sensor, which is integrated into a PV laminate. It detects and signals whether a PV module is working properly, or more correctly is working close to the maximum power point (MPP). This is indicated by two LEDs, a green and an infrared LED. If the PV-module is working fine, in its MPP, both the LEDs will be active. If the module is not working properly, both LEDs will be off.

The green LED is intended for owners of small PV systems and installers, who immediately can see whether the PV-modules are working fine. The infrared LED enables checking the proper functioning of large PV-systems at one glance at further distances by means of, for example, a digital camera.


Why a PV watchdog?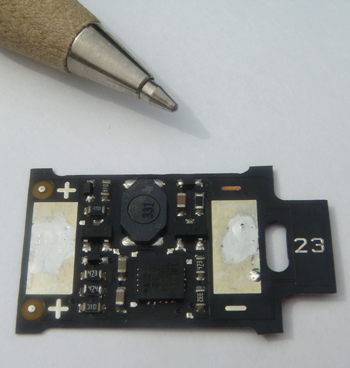 OKE's PV watchdog has many advantages:
Immediately after installation a simple visual check is sufficient to make sure that each module of the PV system is operating properly.
No expert knowledge is required to verify proper operation of PV-systems since the LEDs indicate whether the PV modules are working fine.
No electrical tests at system level for commissioning are required.
Detection of wiring or module faults is easy and fast.
Detection of poor system design is easy and clear.
During operation periodical checks can be executed by the owner of the PV-system.

Features
The PV-watchdog senses voltage, temperature and irradiation.
The PV-watchdog is extremely small and flat, fits in every crystalline PV module, only 2,5 mm space between cells required
The PV-watchdog is extremely reliable; only a few discrete parts are used, no micro processors, no complex integrated circuits, and no capacitors
And finally, the costs of the PV-watchdog are extremely low for a MPP detector: approximately 1 euro per indicator at large volumes.

Status
The development of the PV-watchdog is currently on hold. When you are interested please contact us at oke@euronet.nl.

Downloads - in descending chronological order

PV-watchdog: a PV-module integrated sensor for clear, cost effective monitoring
Henk Oldenkamp, Bernd Litzenburger, Lars Podlowski, Irene de Jong
Paper presented at the 22nd European Photovoltaic Solar Energy Conference, Milano, Italy, September 2007
Download (pdf, 361 kB)

PV-Watchdog: Effektives Monitoring von PV-Modulen (in German)
H. Oldenkamp, B. Litzenburger, L. Podlowski
Paper presented at the Otti Forum, Staffelstein, Germany, March 2007
Download (pdf, 490 kB)

Haalbaarheidsstudie visuele indicator voor functioneren pv-modules (in Dutch)
Henk Oldenkamp, Irene de Jong
Public report with the results of the study into the feasiblity of the PV-watchdog, compiled for the Netherlands agency for energy and the environment (SenterNovem) to complete the feasibility project subsidized by the Nieuw Energieonderzoek-programma (NEO) (in Dutch), November 2005
Download (pdf, 1750 kB).